Lynching of men is our national sport
BETTINA ARNDT 11 NOV 2023
Pauline Hanson spoke in the Senate this week, using parliamentary privilege to talk about the latest Brittany Higgins Wannabe – the Toowomba woman who claims Bruce Lehrmann had sex with her twice without permission to forego a condom. Most of our mainstream media refuses to publish any information challenging this woman's version of events.
She ended her written speech in classic Hanson style, with various telling comments: "Public lynching of men has become our national sport."
"I don't know the truth, only two people do, but if it comes down to the use of a condom it's no one's business but theirs."
"If you are not happy, don't have sex. I would advise celibacy or join a nunnery."
Naturally our press gallery chose to ignore her interesting pronouncements.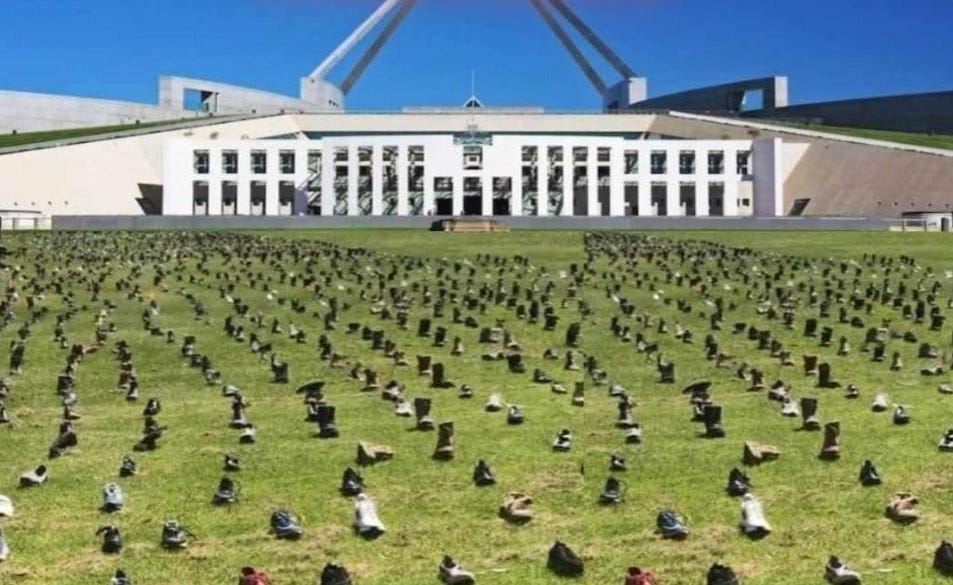 Meanwhile, I am heading to Canberra for an important event. For two days next week the lawns of Parliament House will feature 2,500 empty shoes, one shoe for each of the men and boys who die in this country each year through suicide. This is largely the inspiration of one bloke, Paul Withall, who started the Zero Suicide Community Awareness program which sponsors this powerful memorial event.
This year he has persuaded a bunch of politicians to speak next Thursday, Nov 16. Then, on Sunday Nov 19 – International Men's Day – there's a public event featuring mainly speakers with grassroots experience on how these suicides impact families.